This year's Grand Prize winner will receive a visit to his or her school by a gigantic, 75-foot-tall hot air balloon in June and a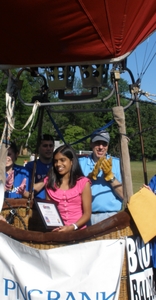 special VIP package at this year's Festival: a hot air balloon ride for two, four Blue Sky Club VIP tickets, and the opportunity to meet one of this year's concert headliners. Past teen sensations to perform at the Festival include the Jonas Brothers, Meaghan Martin, and Disney stars Demi Lovato and Emily Osment.
To further reward students and educators for entering this year's contest, we're giving away more prizes than ever before!
In addition to the prizes listed above, the Grand Prize winning student's immediate classmates will each receive one complimentary general admission ticket to the Festival and the winning student's teacher and school principal will each receive two free Blue Sky Club VIP tickets! 2nd and 3rd place prizes consists of free Festival admission and merchandise.
Every teacher in the state who submits a group of 15 essays or more on behalf of their students will receive two free general admission tickets to the Festival, regardless of whether one of their students submits the winning essay.
The essays should be 100 words or less. They will be judged by a panel of representatives from PNC and the balloon festival. Winning essays will be selected based on creativity, poignancy and clarity with consideration given to the grade level of the contestant. Contestants are not required to be U.S. citizens.
Entries should be submitted by May 1, 2011 to:
Essay Judges
Quick Chek New Jersey Festival of Ballooning
363 Route 46 West, Suite 200
Fairfield, NJ, 07004
or emailed to
information@balloonfestival.com
with ESSAY CONTEST in the subject. **
Please include the student's name, home or school address, home or school phone number, age, grade, school name and name of his or her teacher along with entry.**